HK Audio Lucas Nano 608I stereo rental
Specifications
| | |
| --- | --- |
| Merk | HK Audio |
| Model | Lucas Nano 608I stereo |
| Benodigde ruimte | 0.50 m x 0.50 m |
| Bijzonderheden | Does not come standard with an iPad. Additional price for renting an iPad is €30 per day excluding VAT. |
| Soort product | Speakers |
| Reiskosten | See description below |
| Licht & geluid | Perfect for background music for up to 80 people. |
Small sound set rental
The HK Audio Lucas Nano 608I stereo sound set is ideal for vocal guitar duos, presentations, and background music for smaller events of up to 80 people. What makes this set so unique is that the amplifier and mixing console are incorporated into the speaker. If you have little knowledge of technology, the buttons on the speaker can be learned in 1 minute.
If you want more options to adjust the sound, you can connect your iPad via Bluetooth, and operate the set with the "Lucas Nano Remote" app. If sound spreading is required, you can use the two speaker stands. If this is not necessary, you can mount the two speakers on top of the large speaker.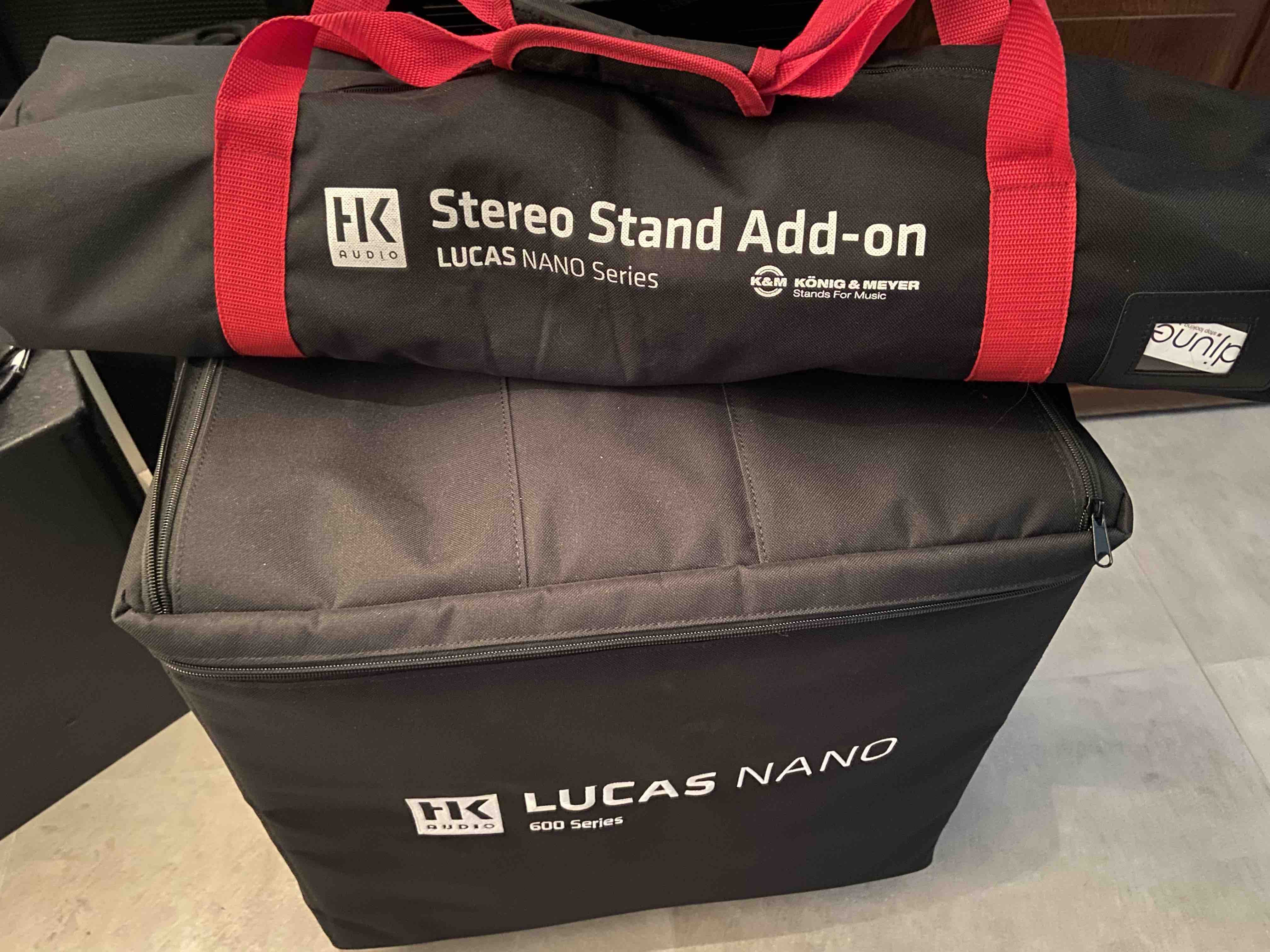 The set is easy to transport in a trolley case for the speakers and a bag for the stands and cables.
Click here for more information about
renting a sound system
.
Shipment costs
For separate sound rental with a total rental price above €300 excl. VAT, we deliver the first 15 km free of charge, both back and forth.
0 - 15 km € 15,00
16 – 30 km € 30,00
31 – 45 km € 45,00
46 – 60 km € 60,00
61 – 75 km € 75,00
76 – 90 km € 90,00
91 – 110 km € 110,00
The prices are for each ride. This means that, for example, from 16-30 km we charge € 30,00 for delivery and € 30,00 for collection. That comes to a total of € 60,00 transport costs. All the above fares are exclusive of 21% VAT.
Review
"Amazing how much sound came out. There were more than 50 people present in the beach tent, but the sound machine still had power left to go louder, but this was not necessary."
Waarom Djunes?
Personal contact
Experience since 2007
Always a custom offer
Plenty of choice
A question about HK Audio Lucas Nano 608I stereo rental?