Specifications
Afmeting
Wedding photo booth
Benodigde ruimte
1 m x 1 m
Bijzonderheden
Optional: 650 extra prints giving you a total of 12 hours of non-stop shooting.
Aantal uren aanwezig
24 hours
Soort product
Photo booth
Reiskosten
The first 50 km from Noordwijk are free
then €0.83 per kilometer
photo booth wedding rentals
You can rent a wedding photo booth at Djunes.nl. This wedding photo booth prints the photos on a photo strip with 3 photos in 10 seconds. The rental period for this photobooth is 24 hours including 650 prints. The number of prints is sufficient for 6 hours of non-stop printing.
Photo booth photo frame wedding
The rental of the photo booth at your wedding includes a personal photo frame. Online you can choose the photo frame that appeals to you the most. We can personalize these by, for example, adding your names and wedding date. You can also make one yourself via Canva and incorporate elements of your wedding card into it. We will then send you an invitation to Canva with all the correct proportions. The photos will be sent digitally afterward.

PHOTO BOOTH Wedding party
You can
rent a photo booth
for your wedding at Djunes.nl. With this unique photo booth, you give your guests an unforgettable souvenir and you collect digital photos of the wedding guests at your wedding. Check out our
photo booth guestbook
page for more inspiration.
Photo booth Rental
photobooth wedding costs
The costs for a wedding photo booth are €350,-, including 21% VAT. This includes 650 photo strips and transport within 50 kilometers of Noordwijk.
Tips for a photo booth at a wedding
A photo booth in itself is a nice addition to your wedding, but you can read the tips below on how to make it even more special. With each photo session of the photo booth, 2 prints are printed. You can choose that the person who takes the photos keeps both prints, but you can also do something creative with the second print.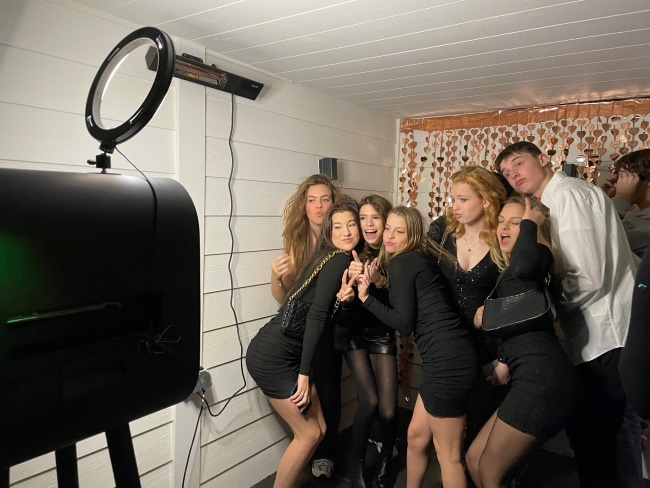 Tip 1: Guestbook wedding photo booth
You can place a wedding guest book/wedding photo book next to the photo booth, asking your guests to stick one of the prints in the wedding guest book and write something with it. At the end of the evening, you will have a beautiful book containing all the wedding photos taken with the photo booth.
Tip 2: Wedding photo frame/photo wall photo booth
Just like you can do with a wedding guest book, you can also ask your guests to stick one of the wedding photos on a large photo frame or photo wall, so that at the end of the evening you can have a photo compilation of all your photos of your wedding guests. Maybe it's nice to make a photo corner at your wedding.
Tip 3: Photo props for wedding
Photo booth props are a collection of accessories that are used in photo booths to make the photos more fun and creative. These attributes can range from hats, glasses, banners, and even costumes. These props provide a unique and personal touch to the photos, making the memories even more special. Using these attributes can encourage guests to take more creative and unique photos. These photo booth wedding props are widely available at, for example, Ali Express or Hema.
Tip 4: Audio guestbook
Renting an audio guestbook
for your wedding is the way to record and relive your special day. Give your guests the option to include their personal messages, congratulations, and memories and create a lasting memory. Listen back together to the beautiful moments of your wedding and cherish these memories forever with an audio guest book.
Transport
Free transport up to 50 km from Noordwijk. After that, we charge €0,83 per kilometer.
Waarom Djunes?
Personal contact
Experience since 2007
Always a custom offer
Plenty of choice
A question about Wedding photo booth?